Trump Asks U.S. Supreme Court To Intervene Over Seized Classified Documents
In his battle with the Justice Department over classified materials that were taken from his Florida residence as part of a criminal investigation into his handling of government data, former President Donald Trump asks U.S. Supreme Court to intervene over seized classified documents on Tuesday.
In an emergency petition, Trump asked the Supreme Court to overturn a portion of a lower court's decision that barred an independent arbitrator he had asked for, known as a special master, from reviewing more than 100 classified documents that were among the 11,000 records that FBI agents had taken from the Mar-a-Lago estate in Palm Beach on August 8.
On Tuesday, Trump's attorneys urged Justice Clarence Thomas to grant an emergency order restoring the authority of an outside reviewer over approximately 100 classified materials discovered at Trump's Mar-a-Lago resort.
The Justice Department was permitted to continue using documents with classification markings in its criminal investigation into Mr. Trump's handling of government records because of the appeals court's ruling, which is the most significant aspect of its intervention. However, Mr. Trump's attorneys did not ask the Supreme Court to reverse this decision.
Such a move would make it simpler for Trump to pursue claims that those documents, some of which are classified as "Top Secret" or with even more stringent designations, shouldn't be in the possession of Justice Department investigators because they are protected by executive privilege, Trump declassified them before leaving office, or for other reasons.
COPYRIGHT_LNN: Published on https://www.lawnewsnetwork.com/trump-asks-us-supreme-court-to-intervene-over-seized-classified-documents/ by K. N. on 2022-10-10T10:12:30.926Z
Technical in nature, the new filing claimed that the U.S. Court of Appeals for the 11th Circuit, located in Atlanta, was not authorized to stay certain provisions of a judge's order appointing a special master to examine all the records the F.B.I. had seized during its search of Mr. Trump's home, Mar-a-Lago.
The application stated that "the 11th Circuit lacked jurisdiction to review the special master order, which authorized the review of all materials seized from President Trump's residence, including documents bearing classification markings."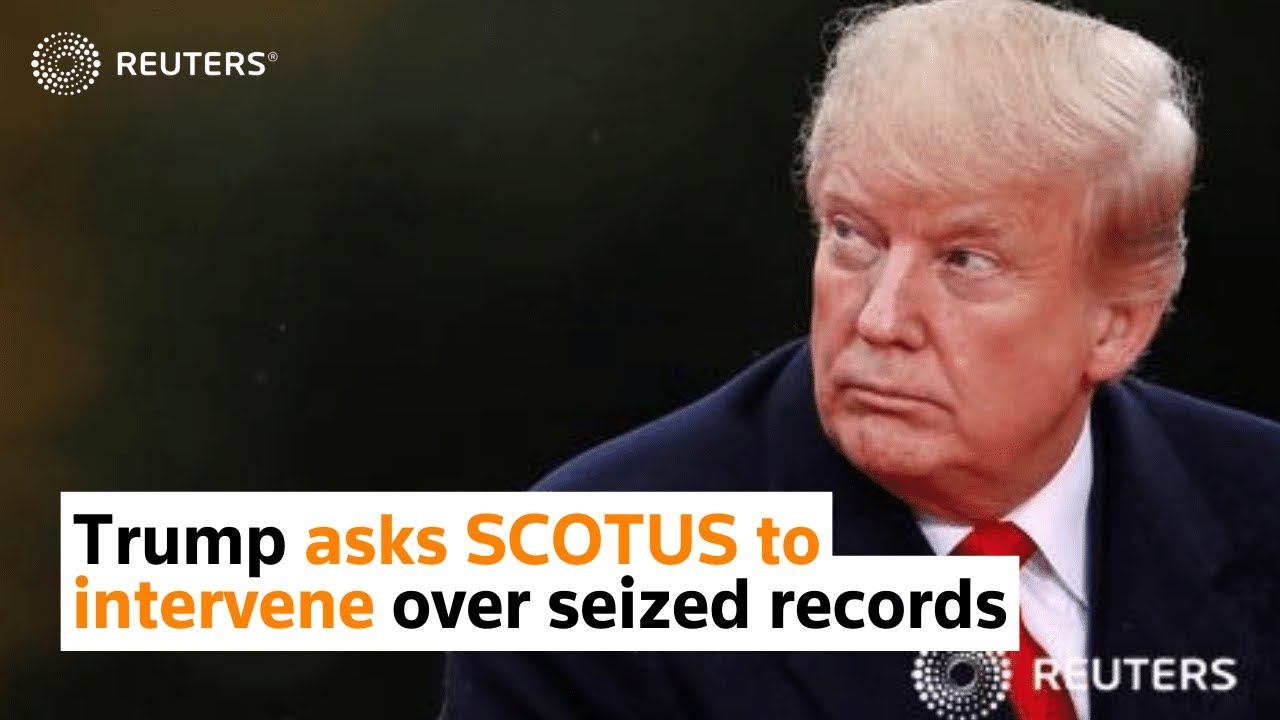 Trump asks SCOTUS to intervene over seized records
Last month, a federal appeals court panel overturned U.S. District Court Judge Aileen Cannon's decision to submit the roughly 100 potentially sensitive records for independent review and to suspend their use in a criminal probe while that procedure is ongoing. A spokeswoman for the Justice Department declined to comment.
If Trump prevails before the Supreme Court, a portion of Cannon's decision to include the 100 documents in her initial order and keep them under review will be upheld.
Trump's attorneys, Christopher Kise, James Trusty, Evan Corcoran, and Lindsey Halligan, stated in the 37-page brief that "any limit on the comprehensive and transparent review of materials seized in the extraordinary raid of a President's home erodes public confidence in our system of justice."
The portion of Cannon's order that barred the Justice Department and FBI from using the papers with classified markings in their current criminal investigation does not appear to be being asked to be reinstated by Trump's emergency motion to the Supreme Court.
Instead, it appears that Trump is merely requesting that Thomas return any documents that might contain sensitive information to the process being overseen by Special Master Raymond Dearie, a seasoned New York-based judge from the U.S. District Court who Cannon appointed in response to Trump's request.
Dearie should have access to "determine whether documents bearing classification markings are in fact classified, and regardless of classification, whether those records are personal records or presidential records," according to a filing by Trump's lawyers on Tuesday.
Trump's lawyers also stated that the Justice Department "attempted to criminalize a document management dispute and now vehemently objects to a transparent process that provides much-needed oversight."
Trump's application must receive a response from the Justice Department by next Tuesday at 5 p.m., according to Thomas' order, which was made public on Tuesday night. The application was made to Thomas because it was Thomas who oversaw the 11th Circuit, which in Atlanta had granted the stay removing the roughly 100 documents with classification markings from the special master process.
Thomas would probably bring Trump's request to the whole court for consideration, as is customary in high-profile cases or when an application may find support with certain justices. The court's reply to Trump's filing does not have a set due date.
The judge authorized a federal inquiry into whether Trump improperly kept records from the White House after leaving office in January 2021 following his unsuccessful bid for reelection in 2020 and whether Trump attempted to impede the investigation that led to the search at Mar-a-Lago.
The investigation aims to identify who accessed sensitive information, whether it was compromised, and whether any users are still missing. The documents with the classified markings of confidential, secret, or top secret were in question in the 11th Circuit decision.
Trump is dealing with a number of legal issues while he decides whether to run for president again in 2024, including the document inquiry.
The attorney general of New York state filed a civil complaint last month, accusing Trump and three of his adult children of falsifying financial reports from the family real estate company. On October 24, the Trump Organization will also stand trial for alleged criminal tax evasion in the state of New York.
Even if Mr. Trump won, it would be a clearly modest victory. It would only enable the special master to examine such records while the Justice Department keeps working.
The Supreme Court, which is presided over by six conservative justices, three of whom were nominated by Mr. Trump, has already rejected attempts to prevent the sharing of material about him, and legal experts said Mr. Trump's current emergency appeal would likely encounter formidable obstacles.
Share:
Twitter

|
Facebook

|
Linkedin