Public Relations Strategies - How To Utilize Them In 2022
How to use public relations strategies? Public relations specialists are looking for alternative channels through digital advertising, eCommerce trade, and social media, while most businesses are looking for unique ways to negotiate social concerns in the public sphere.
As a result of a transitional shift that has occurred over the past ten years, public relations teams and experts have had to increase their understanding of businesses and the internet world.
Thousands of businesses now have to deal with public criticism due to the growing usage of digital platforms and social media as a component of a company's marketing plan.
Public relations, however, have been able to change as society has shifted from an offline to an online way of life. Numerous PR teams and businesses are continually inventing and changing the social dynamics of the PR sector.
These changes have made growth easier to see, but PR strategies are also changing how they are seen in the public and social spheres.
COPYRIGHT_LNN: Published on https://www.lawnewsnetwork.com/public-relations-strategies/ by K. N. on 2022-09-29T10:14:34.939Z
But are public relations tactics still applicable today given the ease of access to information and data? How will it change in the next few years to keep being a well-known way for companies to brand themselves and communicate?
Public relations strategies have been used by companies of all sizes and shapes to penetrate the market and pique the attention of their target audience. Today's environment is considerably different, although the practice's scope has been somewhat modified.
PR professionals and the company's PR strategy can be used as a framework or guide when coming up with ways to get more press coverage and build brand recognition.
Market research is important when developing a PR plan, as is learning how to put fresh ideas into practice that can draw in new customers, develop media relations, boost organic search traffic, and maybe get media attention.
Creating these strategies while keeping in mind the company's brand and identity is hard, but any business that wants to become well-known among its targeted network of business partners and media partners needs to do it.
The PR strategy's core components might fluctuate based on the wants and demands of businesses. In the end, one may anticipate that a well-thought-out PR strategy will include one or more of the following
Consumer-focused marketing.

Media relations.

Practisanalytics.

Research-engaging online content.
Of course, there are good and bad ways to do things, and PR techniques are no exception. Businesses frequently seem to be unaware of what PR is and how to use these tools to their greatest advantage.
PR has a lot to offer the media and marketing industry all over the world because it acts as a link between companies, the media, and the public.
Even though PR strategies have made it easier for businesses to work with the media, many businesses are looking for help with crisis communications in the wake of the COVID-19 outbreak.
As firms use cutting-edge digital marketing to help grow businesses out of the post-pandemic depression, crisis management is one of the newest trends in the PR sector.
According to indications, both public relations and crisis communications are guiding the way forward, opening up new possibilities for connecting with the public and strengthening brand recognition among customers throughout the world.
To improve marketing and communication initiatives, businesses must design a PR plan that may provide significant benefits. PR pros have to show that these techniques work in the ever-changing digital world.
The stakes have increased for many PR agencies as the industry's future is being reimagined. Customers want their favorite companies to engage them in more genuine ways.
But how can you develop a brilliant PR plan that can pump up the brand and corporate messaging given the enormous challenge ahead?
Setting quantifiable targets is the best strategy to achieve PR objectives. Therefore, experts have resorted to a time-tested approach that is still effective today.
This strategy, which is called "SMART" goals, helps teams plan and gather market data for their projects more effectively.
The target audience and potential media partners are highlighted in this branch of SMART objectives. Teams may be able to be more clear about what they want to do with consumer messaging and social interaction because it gives them a way to measure their progress.
While huge firms may have extensive PR plans, these can be difficult to monitor and map as the campaign progresses. Professionals can divide goals into smaller portions in this phase. This might help them see where the campaign may have flaws or gaps and where more core emphasis could be applied.
Financial resources might be difficult to come by at first for certain businesses. Realistic goals that align with corporate objectives should be set. Companies should think about their areas of weakness, how they may better utilize the resources at hand and how to harness the technology of today.
PR experts take into account the resources that businesses have at their disposal. Current website traffic, promotional materials, and digital content can all be included in this. This will help to paint a clearer picture of the situation and show whether their solutions are feasible.
It will go beyond existing activities to combine business principles and ongoing PR operations. Here, experts try to look at the PR campaign in its current state and its potential after it has been put into action.
It's one of the trickier elements in the "SMART" technique since PR professionals have to think about the future relevance of these PR initiatives, their growth, and how they might reach media outlets.
Finally, a deadline must be set for each PR strategy and campaign. Professionals will need to reevaluate a strategy's efficacy and influence if no progress is made. They will be able to tell if anything is functioning and how to adapt as necessary thanks to this.
The secret to getting greater outcomes is to set up realistic timetables that are both quantifiable and manageable.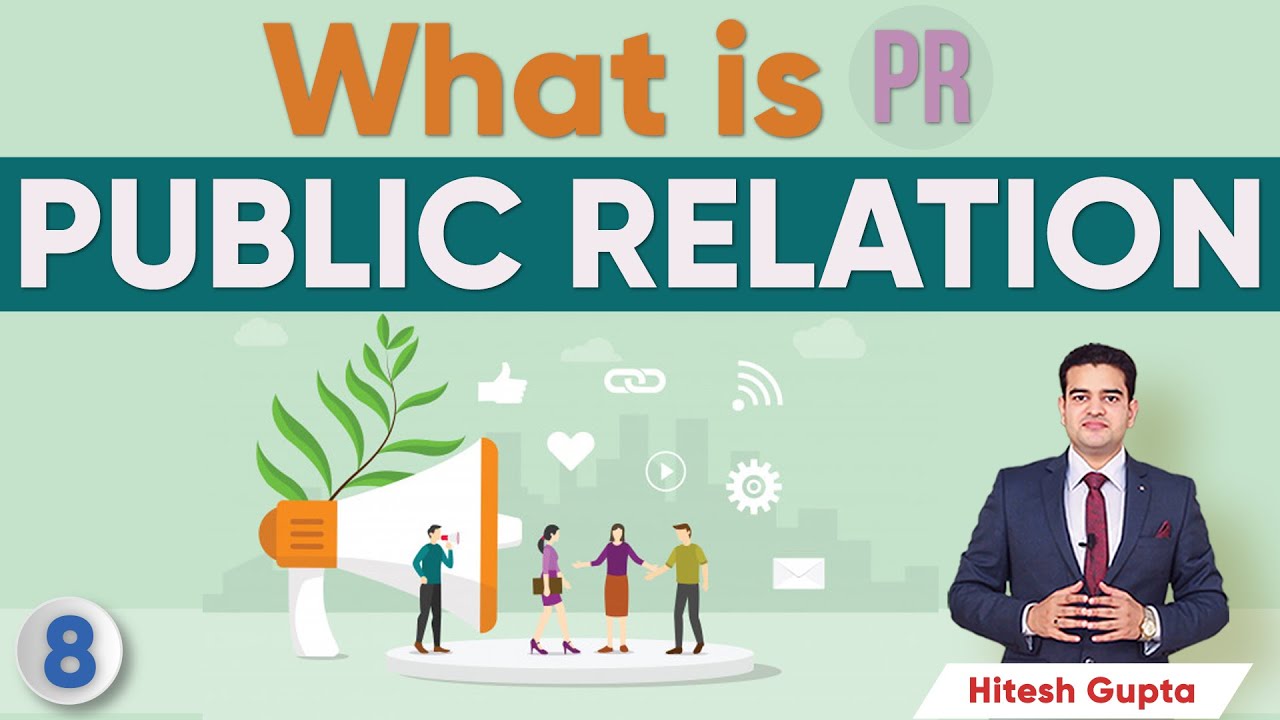 What is Public Relations in Marketing | What is PR in Marketing | Learn Marketing in Hindi by Hitesh
Public relations (PR) strategies are the acts or activities that a company does to reshape the public's view of its brand to forge enduring bonds with its clientele.
You must recognize and comprehend your target demographic to manage a successful PR strategy.
The greatest PR strategies are comprehensive, with a clear explanation of goals, key messaging, target audiences, techniques, and KPIs that operate as a road map for accomplishing a certain purpose.
Public relations strategies aid in creating and maintaining a favorable public perception of your company. Effective discourse is at the core of this communication style. It means getting your message out to people without paying them directly by using news stories and topics of public interest.
Every day, hundreds of small and medium-sized businesses throughout America run low-budget PR efforts. Whether you run a small firm or are an entrepreneur, PR can help you compete on an even playing field with your more powerful rivals.
If you want to succeed in PR, you must develop a set of useful abilities and tactics intended to improve your company's reputation.
If done properly, PR may aid in the accomplishment of your marketing goals at a fraction of the price of paid advertising. Using innovative messages is essential for PR success. Simply put, the PR chores you perform should be noteworthy and convey the marketing message.
Share:
Twitter

|
Facebook

|
Linkedin